Architecture shapes our life and should be created for all of our senses.
Coldefy is an international studio that creates balanced environmental, urban and social compositions that push the boundaries of cities and life, weaving landscape and personal narratives in projects.
We started as a family business, but now with over 15 years of experience, we work on more than 50 projects per year in 11 countries on four continents.
We value the cultural diversity of our collaborators.
They contribute greatly to the profile of our company by exchanging ideas from different approaches.
From extra-large to extra small, our work is confronted with ultra-urban environments and supports creating human-sized cities.
We ask ourselves simple questions to return to the fundamentals of architecture and design, seeking a new pragmatism about human behaviour and cities.
We are aware that the buildings we inhabit influence our behaviour and shape our cities.
We believe that architecture should serve the senses and allow for memorable experiences.
What does sensitive architecture stand for?
Practising sensitive architecture that is connected to nature and open to the landscape.
We envision buildings as a desire for tranquillity and as opportunities to escape a frenzied pace of living.
clarity
Within urban or natural surroundings, Coldefy believes that simple, clear design has the strongest impact for inhabitants, users, and visitors. The conceptual legibility of each project, and its ability to express its intentions, generates an understanding with the community that allows it to insert itself into their spatial and visual consciousness.
urbanity
Through its projects, Coldefy seeks to respect the identity of territories while generating new landmarks. By respecting the continuity of urban and natural experiences, their designs open a dialogue between the project and its environment, and become a catalyst for social interaction and the generation of public space.
phenomenology
Each space must consider the senses of those who encounter it, above and beyond the technical constraints and conceptual objectives. Coldefy maintains that sensory stimuli such as light, material, and space anchor our encounters via our human senses, framing our memories of places and their impact on our lives.
awards
Very proud and honored to announce that Thomas Coldefy, founding partner of Coldefy have been awarded "Knight of the Order of Arts and Letters" by Rima ABDUL MALAK , the French Minister of Culture. This prestigious French distinction is a great honor as it is also the recognition by France of all the work done by the whole staff of Coldefy to promote French architecture and its influence at an international scale.
Thomas Coldefy – Knight of the Order of Arts and Letters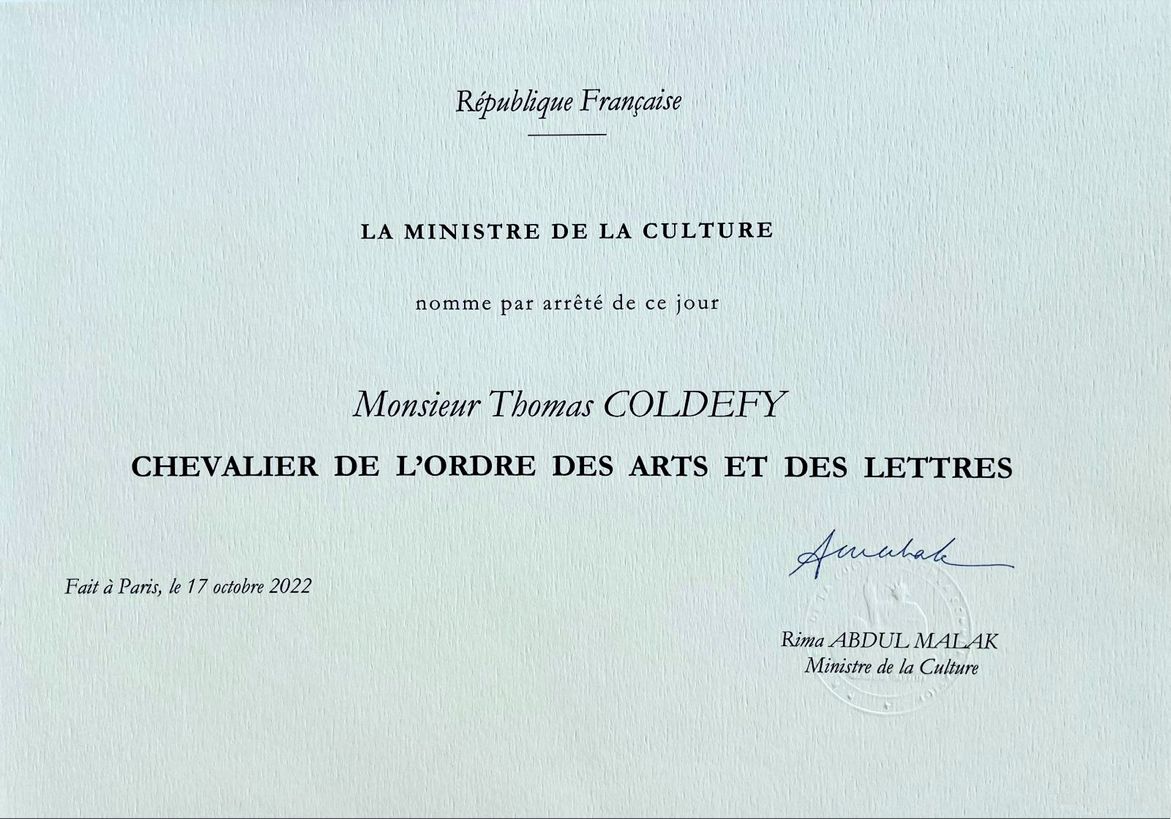 We are proud to announce Coldefy – Residence G, North of France has received a Prize from the Chicago Athenaeum's European Centre in the International Architecture Awards in the PRIVATE HOUSES category. An exhibition of the award winners is on display: from 10 September to 6 October 2021 The European Centre Athens, Mitropoleos 74, Athens
International Architecture Award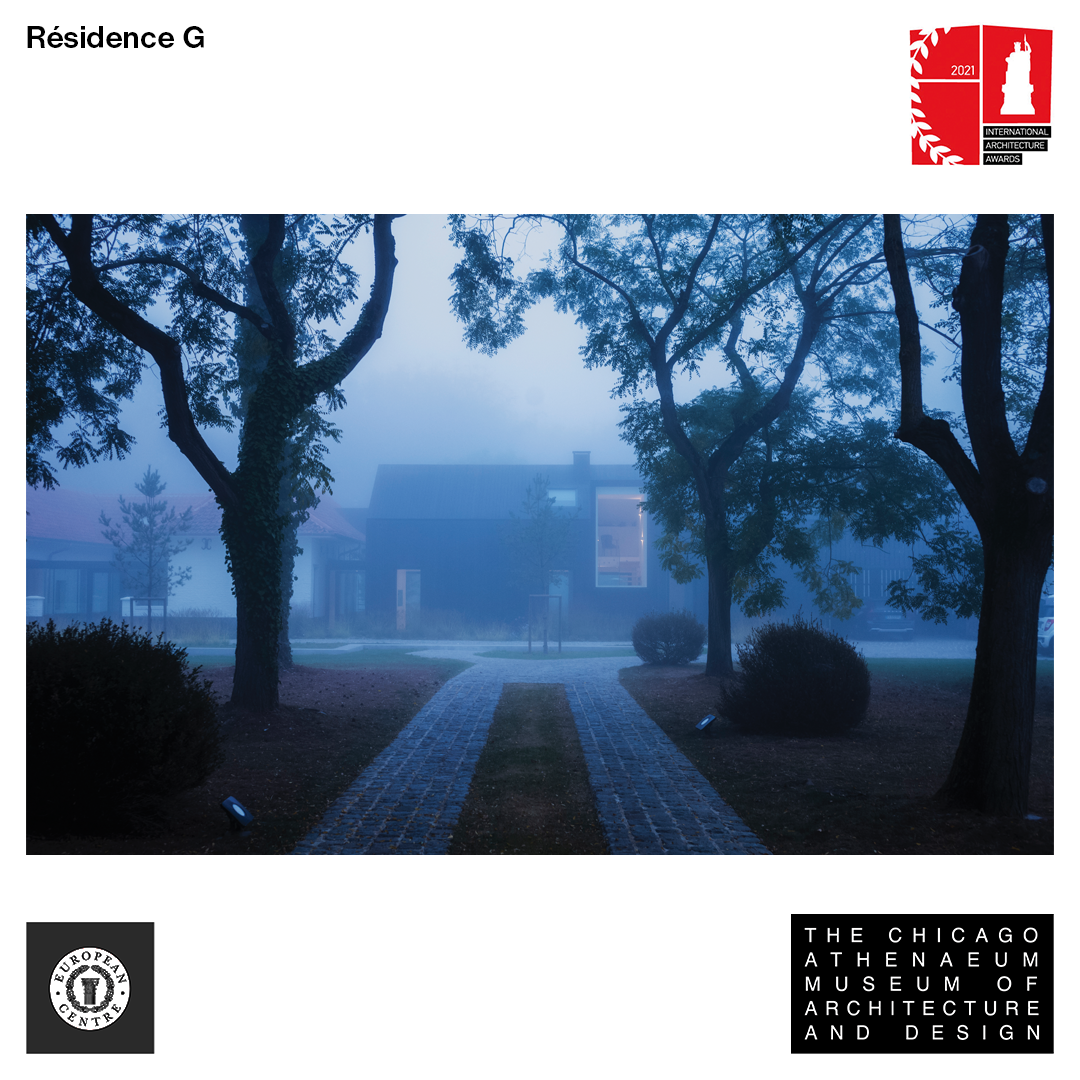 We are proud to announce Coldefy – Residence G, North of France has received a Prize from the Chicago Athenaeum's European Centre in the International Architecture Awards in the PRIVATE HOUSES category. An exhibition of the award winners is on display: from 10 September to 6 October 2021 The European Centre Athens, Mitropoleos 74, Athens
We are proud to announce Coldefy – Residence G, North of France has received a Prize from the Chicago Athenaeum's European Centre in the International Architecture Awards in the PRIVATE HOUSES category. An exhibition of the award winners is on display: from 10 September to 6 October 2021 The European Centre Athens, Mitropoleos 74, Athens
clients
A–F
Adevia | Adidas Group | Agence Publique pour l'Immobilier de la Justice | Altaréa Cogedim | aTR2O | Aventim | Bao'an Culture & Sports Tourism | BECI | Beijing Capital Group Bouygues | Bureau | Capelli | CCI Lille | Ceetrus | CGE | CGE Immobilier | Chambre des Métiers et de l'Artisanat | CIRMAD | Citania | Cogedim | Communauté d'Agglomération du Cambrésis | Communauté d'Agglomération du Douaisis | Compagnie Het Zoute NV | Conseil Général du Nord | Conseil Régional Nord-Pas-de-Calais | Département du Nord | Département du Pas-de-Calais | Edouard Denis Promotion | ESMA | Finapar | Foncière Logement |
G–L
Government of Bao'an District | Greenland Group | Groupe Carle | Groupe Financière Duval | Groupe GMB invest – ICM | Groupe Hainaut Immobilier | Groupe OVH | Groupe SNI | Haut-de-Seine Département | Hermès | Hong Kong Vocational Training Council | Icade | ICF Habitat Novedis | ICF Nord Est | IDEC | Immobilier | Immobilière 3F | Immochan | Immo Mousquetaires | Indigo | Kaufman & Broad | Lille Métropole Habitat | Linkcity | Logivam |
M–R
Mairie de Mons-en-Baroeul | Meeschaert | Ministère de la Justice de Géorgie | Ministère de l'Habitat et de l'Urbanisme / Burkina Faso | Métropole Européenne de Lille | Nacarat | Neoximo | Netco | Nexity | Nodi | Nordnet. Novaxia | ONE Pulse Foundation | Opale Tropical Concept | Organisation Mondiale de la Santé | Oria | Paris OPH | Partenord Habitat | Pichet | Pierres & Territoires de France Nord | Projectim | Promoval | Ramery Immobilier | Région Hauts de France |
S–Z
Government of Bao'an District | SCI Arpatoli | SEMAPA | Shenzen City Longhua District | SIA | SNI | SOFIM | SORELI | TRESCO | Unibail | Université d'Artois-Arras | Université Lille 3. Université de Valenciennes et du Hainaut Cambrésis | Vanke Vesta Promotion | Ville de Lille | Ville de Taichung | Ville de Valenciennes | Ville de Villeneuve d'Ascq | Ville du Touquet | Vinci Immobilier | Vocational Training Council | Work&Co | Zhuhai Da Heng qin Innov. and Dvlpt co. |